By: Tim Plouff
When you have the best-selling vehicle in its segment—small/mid-size pickup trucks—and you've led the class for a long time, you can become complacent and avoid risks. After all, customers are telling you that they like what you are offering, so why make dramatic changes?
Toyota's small pickup truck, the entry level vehicle for the whole brand in America back in 1968, has essentially dominated small(er) pickup sales here for over a decade as several rivals abandoned the segment, or, moved onto larger vehicles with larger profits.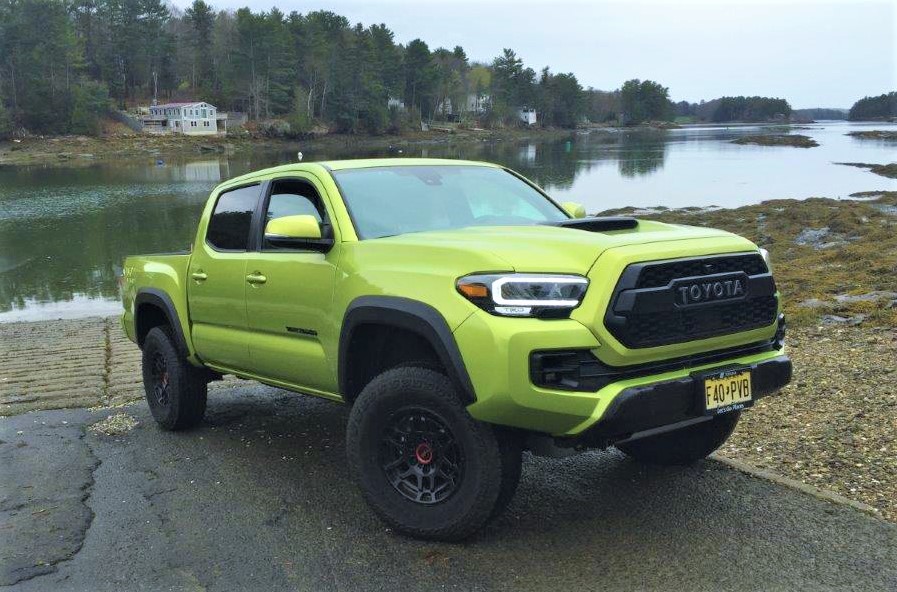 The Tacoma, now in extended cab or 4-door double cab bodies only (with five or six-foot bed) has become the segment benchmark for sales, if not amenities or performance. Reliable to a fault, tough as a bag-of-hammers, and versatile for multiple tasks, the latest offering cements the truck's off-road prowess with enhanced performance when the tarmac ends, while also pushing the envelope of the color palate with a new Electric Lime green paint that is distinctive to the Tacoma. Some risk/reward calculations are apparently taking place.
The new TRD Pro also pushes the pricing envelope for the Tacoma with a sticker price over $51,000—a solid 45% higher than a base model Tacoma. Nothing entry level about the TRD Pro.
What you get is a solid off-roader packed with locking diffs, crawl-mode off-roading assist, multiple terrain modes, plus color specific wheels wearing Goodyear Territory tires enhanced with Kevlar fibers. Sadly, the transfer case only includes four-wheel drive high and low range choices, no auto-mode for on-road use as several rivals have added.
TRD Pro is also equipped with Fox shocks and greater ground clearance this year, gaining 1.5-inches up front and about a half-inch at the rear so break-over, approach, and departure angles off-road are all increased.
Visually, the TRD Pro projects a different face with LED lamps and a beefier-looking grille, while the hood scoop is covered with a black TRD decal. A big skid plate rests below the front end, while the new grille also hides a forward-view camera for extra trail visibility. TRD is embossed in the rear fenders too; a rugged approach versus the typical decal or add-on emblem.
Heated seating, power sunroof, power rear window, keyless ignition, plus navigation in the upgraded entertainment screen with Apple/Android and Alexa adding to the enjoyment in the optional audio system, are some of the possibilities with the TRD Pro level of features.
After sharing the TRD Pro with other Tacoma owners, a few questions popped up; is the fuel economy any better, and is there ever going to be a Tacoma hybrid? Toyota is, after all, the King of Hybrid's, so owners are thinking of fuel economy with their favorite truck. A Tacoma makeover slotted for 2024 might be a big reveal on both counts.
Is this TRD Pro the alternative to Ford's Raptor, the small truck with the big cajones off-road? Featured in countless off-road biking stories, off-road trail trips, plus Toyota's own commercials, consumers could be forgiven for assuming that the Tacoma is going to keep its top-in-class crown by throwing lots of gravel on its adversaries.